COMING CONSORTIUM EVENTS
Meeting the JFSP data availability requirement
Date: Monday August 22, 2016 12pm MDT (11am AZ)
Presenter: Laurie Porth and Dave Rugg, U.S. Forest Service Research & Development, Research Data Archive
Meeting the JFSP grant requirement for post-research data accessibility requires some planning. This webinar will review the two paths for satisfying the data requirement, discuss in detail what is needed for publishing research data through the Forest Service Research Data Archive, and provide tips for making those submissions as smooth as possible. Click here to register NOW!
Increasing trends in high severity fire in the southwestern USA from 1984-2013
Date: Wednesday August 24, 2016 12pm MDT (11am AZ)
Presenter: Megan Poling, PhD Student, Northern Arizona University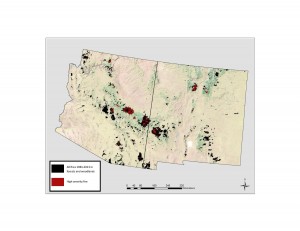 In the last three decades nearly 5 million hectares have burned in all vegetation types in the Southwest and the largest fires in documented history have occurred in the past two decades. However, trends in severity, or how fires are burning have not been well documented in forest and woodland ecosystems in the Southwest. We quantified trends in high severity fire in seven different forest and woodland ecosystems (i.e. Ecological Response Units [ERU] Fire Regime Types) in the southwestern USA over a 30 year time span.  We showed that fires are getting more frequent, larger, and more severe across all vegetation types. We also showed that area burned and area burned severely are increasing in all forest and woodland ERU Fire Regime Types while percent of high severity fire is increasing in four ERU Fire Regime Types.  Increasing trends may be an indicator of changing fire patterns and thus, large-scale change to the Southwest landscape. A factsheet on this topic is also available.  Click here to register for this webinar NOW!
Beyond hazardous fuels: Managing fire for social, economic, and ecological benefits
This is a Southwest Regional Fire Ecology and Management Conference in partnership with the Association for Fire Ecology. Planning has begun, so save the dates for this conference in Tucson, Arizona November 28 – December 2, 2016. This conference is being held concurrently with the 1st Applied Fire Science Workshop! Visit the website here!
Fires of Change – A Science & Art Collaborative
This project is designed to integrate fire and climate science with art to offer a unique interpretation for the northern Arizona community. Together with partners, Landscape Conservation Initiative (LCI) and Flagstaff Arts Council (FAC), we selected 11 artists to participate. In September 2014, these artists attended field trips to the North Rim of the Grand Canyon and other locations in northern Arizona with fire managers and scientists to learn about fire and climate science. The resulting art exhibition showed in Flagstaff from September 5 – October 31, 2015.
This exhibit is now on hiatus, but we hope to bring it back in New Mexico next year! Stay tuned!
We created a short video to provide a basic description of the process for this project below as well as a general video on fire and climate science, both of which will be showing at the Coconino Center for the Arts during the exhibition.
Fires of Change September 2014 Field Trip Materials are available here:
NON-CONSORTIUM EVENTS
IAWF- 2nd International Smoke Symposium November 14-17, 2016 in Long Beach, CA.