COMING CONSORTIUM EVENTS
WEBINAR: Mixed Conifer Forest Ecology: Emerging Science
Date: Tuesday, November 10, 2015 12pm MST
This will be a panel presentation followed by a question/answer and discussion, approximately 90 minutes in length
Assessing and analyzing mixed conifer spatial patterns of northern Arizona (Kyle Rodman)
Effects of tree cutting and fire on understory vegetation in mixed conifer forests (Judy Springer)
Treatement effectiveness of mixed conifer treatments in the Wallow Fire (Amy Waltz)
Overview of the mixed conifer LEARN project on Mogollon Rim Ranger District (Andrew Sanchez Meador)
This webinar is co-sponsored by the SWFSC and the Ecological Restoration Institute
Click here for more information or to register NOW.
The Ecological Restoration Institute at Northern Arizona University will present 4 studies from on-going research in mixed conifer habitat across northern and eastern Arizona. The mixed conifer forests studied evolved with frequent fire, and have seen changes in tree densities, tree composition, and spatial patterns since widespread exclusion of fire in the Southwest as early as the 1870s (Rodman presentation).  Treatments that thin trees and select for fire-resilient species impact the understory (Springer presentation) and influence stand resiliency to uncharacteristic fire (Waltz presentation). On-going studies on the federal landscape will test effects of multiple treatment types in mixed conifer forests, including restoration treatments and Mexican Spotted Owl recovery plan habitat treatments (Sanchez Meador presentation).
Fire Management on the San Carlos Apache Reservation – September 10, 2015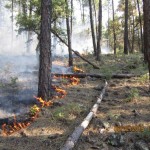 This full day field trip brought us to various fires managed through partnership between the San Carlos Apache (SCA) Tribe and the BIA San Carlos Agency. Over the last several years, they have built a mosaic of fire by allowing fire to retake its natural role across the Nantac Rim. Recent fires on the SCA include the Skunk, Basin, and Sawmill Fires.
*Stay tuned for a virtual field trip that is in the works!
Beyond hazardous fuels: Managing fire for social, economic, and ecological benefits
This is a Southwest Regional Fire Ecology and Management Conference in partnership with the Association for Fire Ecology. Planning has begun, so save the dates for this conference in Tucson, Arizona November 28 – December 2, 2016.
Download save the dates flyer here.
Fires of Change – A Science & Art Collaborative
This project is designed to integrate fire and climate science with art to offer a unique interpretation for the northern Arizona community. Together with partners, Landscape Conservation Initiative (LCI) and Flagstaff Arts Council (FAC), we selected 11 artists to participate. In September 2014, these artists attended field trips to the North Rim of the Grand Canyon and other locations in northern Arizona with fire managers and scientists to learn about fire and climate science. The resulting art exhibition runs September 5 – October 31, 2015.
For a schedule of presentations and events, visit the FAC website. The LCI blog has followed artist progress here.
We created a short video to provide a basic description of the process for this project below as well as a general video on fire and climate science, both of which will be showing at the Coconino Center for the Arts during the exhibition.
Fires of Change September 2014 Field Trip Materials are available here:
NON-CONSORTIUM EVENTS
6th International Fire Ecology & Management Congress: Advancing Ecology in Fire Management, AFE, November 16-20, 2015 in San Antonio, Texas
5th International Fire Behavior and Fuels Conference, "Wicked problem, new solutions: Our fire, our problem," IAWF, April 11-15, 2015 in Portland, Oregon (and Melbourne, Australia)