COMING CONSORTIUM EVENTS
WEBINAR: Local Ecological Knowledge and Fire Management: What Does the Public Understand?
Date: Wednesday, October 21, 2015 1pm MDT (12pm AZ)
Presenters: John Diaz, North Carolina State University
As fire management agencies seek to implement more flexible fire management strategies, local understanding and support for these strategies become increasingly important. One issue associated with implementing more flexible fire management strategies is educating local populations about fire management and identifying what local populations know or do not know related to fire management. This study used survey data from three 2010 wildland fires to understand how ecological knowledge and education level affected fire management perception and understanding. Results indicated that increased accuracy in identifying ecological conditions was associated with higher proficiencies in the identification of fire management strategies used for wildfires. Education levels were not significantly related to public perception of fire management but were related to significant differences in accurately identifying ecological conditions. Results suggest that education may play a mediating role in understanding complex wildfire issues but is not associated with a better understanding of fire management. Click here to register for this webinar NOW!
Fire Management on the San Carlos Apache Reservation – September 10, 2015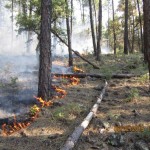 This full day field trip brought us to various fires managed through partnership between the San Carlos Apache (SCA) Tribe and the BIA San Carlos Agency. Over the last several years, they have built a mosaic of fire by allowing fire to retake its natural role across the Nantac Rim. Recent fires on the SCA include the Skunk, Basin, and Sawmill Fires.
*Stay tuned for a virtual field trip that is in the works!
Beyond hazardous fuels: Managing fire for social, economic, and ecological benefits
This is a Southwest Regional Fire Ecology and Management Conference in partnership with the Association for Fire Ecology. Planning has begun, so save the dates for this conference in Tucson, Arizona November 28 – December 2, 2016.
Download save the dates flyer here.
Fires of Change – A Science & Art Collaborative
This project is designed to integrate fire and climate science with art to offer a unique interpretation for the northern Arizona community. Together with partners, Landscape Conservation Initiative (LCI) and Flagstaff Arts Council (FAC), we selected 11 artists to participate. In September 2014, these artists attended field trips to the North Rim of the Grand Canyon and other locations in northern Arizona with fire managers and scientists to learn about fire and climate science. The resulting art exhibition runs September 5 – October 31, 2015.
For a schedule of presentations and events, visit the FAC website. The LCI blog has followed artist progress here.
We created a short video to provide a basic description of the process for this project below as well as a general video on fire and climate science, both of which will be showing at the Coconino Center for the Arts during the exhibition.
Fires of Change September 2014 Field Trip Materials are available here:
NON-CONSORTIUM EVENTS
13th Biennial Conference of Science and Management on the Colorado Plateau and Southwest Region, October 5-8, 2015 in Flagstaff, Arizona
6th International Fire Ecology & Management Congress: Advancing Ecology in Fire Management, AFE, November 16-20, 2015 in San Antonio, Texas