COMING CONSORTIUM EVENTS
Fire Management on the San Carlos Apache Reservation – September 10, 2015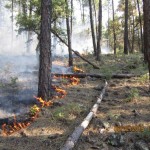 Join us for a full day field trip to visit various fires managed through partnership between the San Carlos Apache (SCA) Tribe and the BIA San Carlos Agency. Over the last several years, they have built a mosaic of fire by allowing fire to retake its natural role across the Nantac Rim. Recent fires on the SCA include the Skunk, Basin, and Sawmill Fires.
Lunches will be available for order/purchase at a cost of $12 from the Apache Gold Casino. Pay the Apache Gold Casino directly the morning of the field trip. Click here for more information or to register now!
Beyond hazardous fuels: Managing fire for social, economic, and ecological benefits
This is a Southwest Regional Fire Ecology and Management Conference in partnership with the Association for Fire Ecology. Planning has begun, so save the dates for this conference in Tucson, Arizona November 28 – December 2, 2016.
Download save the dates flyer here.
Fires of Change
This project is designed to integrate fire and climate science with art to offer a unique interpretation for the northern Arizona community. Together with partners, Landscape Conservation Initiative (LCI) and Flagstaff Arts Council (FAC), we selected 11 artists to participate. In September 2014, these artists attended field trips to the North Rim of the Grand Canyon and other locations in northern Arizona with fire managers and scientists to learn about fire and climate science. They will turn their learning experience into art pieces for a September 2015 exhibit in conjunction with the Flagstaff Festival of Science. For more information on the exhibit, visit the FAC website. The LCI blog will follow artist progress until the exhibit here. We also created a short video "teaser" to provide a basic description of the process for this project below.
Fires of Change Field Trip Materials are available here:
NON-CONSORTIUM EVENTS
13th Biennial Conference of Science and Management on the Colorado Plateau and Southwest Region, October 5-8, 2015 in Flagstaff, Arizona
6th International Fire Ecology & Management Congress: Advancing Ecology in Fire Management, AFE, November 16-20, 2015 in San Antonio, Texas