COMING CONSORTIUM EVENTS
Ecology of Smoke
Date: Wednesday February 17, 2016 12pm Mountain
Presenter: Mary Lata, USFS Fire Ecologist
The Ecology of Smoke is something that has been considered by very few in the United States, despite extensive and intensive interest and research into frequent fire systems. This presentation will review some of the existing science; present some recent data on smoke and seedling emergence in species native to southwestern ponderosa pine forests; and outline the extensive gaps in our current state of knowledge in regards to Smoke Ecology. Click here to register now!
Date: March 31-April 2, 2016
Location: Silver City, New Mexico
Complete and submit a travel grant application here…
Date: April 1-April 2, 2016
Location: Phoenix, Arizona
Complete and submit a travel grant application here…
Fire Management on the San Carlos Apache Reservation – September 10, 2015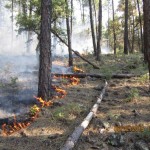 This full day field trip brought us to various fires managed through partnership between the San Carlos Apache (SCA) Tribe and the BIA San Carlos Agency. Over the last several years, they have built a mosaic of fire by allowing fire to retake its natural role across the Nantac Rim. Recent fires on the SCA include the Skunk, Basin, and Sawmill Fires.
*Virtual field trip and notes coming soon!
Beyond hazardous fuels: Managing fire for social, economic, and ecological benefits
This is a Southwest Regional Fire Ecology and Management Conference in partnership with the Association for Fire Ecology. Planning has begun, so save the dates for this conference in Tucson, Arizona November 28 – December 2, 2016.
Download save the dates flyer here.
Fires of Change – A Science & Art Collaborative
This project is designed to integrate fire and climate science with art to offer a unique interpretation for the northern Arizona community. Together with partners, Landscape Conservation Initiative (LCI) and Flagstaff Arts Council (FAC), we selected 11 artists to participate. In September 2014, these artists attended field trips to the North Rim of the Grand Canyon and other locations in northern Arizona with fire managers and scientists to learn about fire and climate science. The resulting art exhibition showed in Flagstaff from September 5 – October 31, 2015.
This exhibit is now showing at the University of Arizona Museum of Art in Tucson, Arizona!
We created a short video to provide a basic description of the process for this project below as well as a general video on fire and climate science, both of which will be showing at the Coconino Center for the Arts during the exhibition.
Fires of Change September 2014 Field Trip Materials are available here:
NON-CONSORTIUM EVENTS
6th International Fire Ecology & Management Congress: Advancing Ecology in Fire Management, AFE, November 16-20, 2015 in San Antonio, Texas
5th International Fire Behavior and Fuels Conference, "Wicked problem, new solutions: Our fire, our problem," IAWF, April 11-15, 2015 in Portland, Oregon (and Melbourne, Australia)