COMING CONSORTIUM EVENTS
Finding the Best Available Science on Fire Effects and Fire Regimes in Southwestern and Southern Rocky Mountains Ecosystems
Date: Wednesday May 18, 2016 12pm Mountain
Presenter: Robin Innes, Ecologist
Fire Effects Information System (FEIS, www.feis-crs.org/feis/) staff will introduce new two fire regime products-Fire Regime Reports and Fire Regime Syntheses-and demonstrate FEIS's new search functions to inform fire management planning and decision-making in the Southwest and Southern Rockies regions. Fire Regime Reports summarize information from thousands of LANDFIRE Biophysical Settings models, which are grouped according to similarities in vegetation and fire history. Fire Regime Syntheses add comprehensive, thoroughly documented reviews of the scientific literature to the Fire Regime Reports. These syntheses provide the best science available on historical fire frequency, spatial pattern, extent, and seasonality; historical ignition sources; and typical patterns of fire intensity and severity. They also provide information on contemporary changes in fire regimes, especially in relation to fuels, climate, and invasive species. The updated user interface provides easy access to these publications and links them to nearly 1,100 FEIS Species Reviews. Click here to register for this webinar now!
This webinar is hosted in partnership with the Southern Rockies Fire Science Network!
Southwest Fire Season: 2015 Overview and 2016 Outlook
Date: Wednesday May 25, 2016 12pm MDT (11am AZ)
Presenter: Zander Evans, Forest Guild and Brent Wachter, National Weather Service
Please join us for a webinar to review last year's fires and look ahead toward conditions for this year. Dr. Zander Evans will present an overview of the 12 largest fires in the Southwest during 2015. He will share summaries of forest types and burn severities for each of the 12 fires. In addition, Brent Wachter, Fire Weather Meteorologist with NOAA, will discuss the fire season outlook for this year in the Southwest. Click here to register for this webinar now!
Date: March 31-April 2, 2016
Location: Silver City, New Mexico
Date: April 1-April 2, 2016
Location: Phoenix, Arizona
 To view presentations and information from the Arizona WUI Summit, click here!
Fire Management on the San Carlos Apache Reservation – September 10, 2015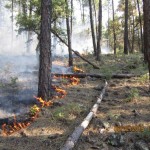 This full day field trip brought us to various fires managed through partnership between the San Carlos Apache (SCA) Tribe and the BIA San Carlos Agency. Over the last several years, they have built a mosaic of fire by allowing fire to retake its natural role across the Nantac Rim. Recent fires on the SCA include the Skunk, Basin, and Sawmill Fires.
*Virtual field trip and notes coming soon!
Beyond hazardous fuels: Managing fire for social, economic, and ecological benefits
This is a Southwest Regional Fire Ecology and Management Conference in partnership with the Association for Fire Ecology. Planning has begun, so save the dates for this conference in Tucson, Arizona November 28 – December 2, 2016. Visit the conference website here!
Fires of Change – A Science & Art Collaborative
This project is designed to integrate fire and climate science with art to offer a unique interpretation for the northern Arizona community. Together with partners, Landscape Conservation Initiative (LCI) and Flagstaff Arts Council (FAC), we selected 11 artists to participate. In September 2014, these artists attended field trips to the North Rim of the Grand Canyon and other locations in northern Arizona with fire managers and scientists to learn about fire and climate science. The resulting art exhibition showed in Flagstaff from September 5 – October 31, 2015.
This exhibit is now on hiatus, but we hope to bring it back in New Mexico next year! Stay tuned!
We created a short video to provide a basic description of the process for this project below as well as a general video on fire and climate science, both of which will be showing at the Coconino Center for the Arts during the exhibition.
Fires of Change September 2014 Field Trip Materials are available here:
NON-CONSORTIUM EVENTS
Send us your event!