Future Workshops / Field Trips – Send us your ideas!
We have funding available to sponsor workshops or field trips. We can fund already planned activities or assist in development of new ideas. If you have an idea for a workshop or field trip please let us know. Fill out a workshop proposal form and return an electronic copy to swfireconsortium@gmail.com.
Beyond hazardous fuels: Managing fire for social, economic, and ecological benefits
This is a Southwest Regional Fire Ecology and Management Conference in partnership with the Association for Fire Ecology. Planning has begun, so save the dates for this conference in Tucson, Arizona November 28 – December 2, 2016. This conference is being held in conjunction with the 1st Applied Fire Science Workshop- visit the official website for both here!
Past Field Trips and Workshops
Date: March 31-April 2, 2016
Location: Silver City, New Mexico
Date: April 1-April 2, 2016
Location: Phoenix, Arizona
 To view presentations and information from the Arizona WUI Summit, click here!
Fire Management on the San Carlos Apache Reservation – September 10, 2015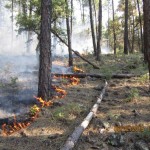 We took a full day field trip to visit various fires managed through partnership between the San Carlos Apache (SCA) Tribe and the BIA San Carlos Agency. Over the last several years, they have built a mosaic of fire by allowing fire to retake its natural role across the Nantac Rim. Recent fires on the SCA include the Skunk, Basin, and Sawmill Fires. Virtual field trip coming soon! Download field trip materials below (more to come).
Preparing for Wildfires: Moving from Crisis to Opportunity
A workshop for Cooperative Extension Educators and Community Leaders, March 10-12, 2015 in Tucson, Arizona.
Planning for the next big one: Managing the post-fire environment in a time of change
This small-scale collaborative workshop was held April 16-17, 2015 in Santa Fe, New Mexico. Funding partners include The Nature Conservancy New Mexico and the Southwest Fire Science Consortium.
Materials and Notes from the workshop can be downloaded below. If you have further questions, contact Anne Bradley with The Nature Conservancy (contact info contained within the workshop agenda).
A forum to discuss next steps, actions and outcomes of the workshop is available here: http://s15.zetaboards.com/SW_Burn_Area_Network/index/
Wildland fire smoke in the air – What does it mean to ME?
Thank you to all those who attended, making it a successful workshop! We are currently working on posting presentations from the workshop, including video that was taken of specific presentations, and some of the main ideas recorded from our roundtable discussion sessions. This will take time to put together- please be patient with us!
November 6-8, 2014 in Albuquerque, New Mexico.
Agenda, workshop materials and presentations are available here.
Jemez Field Trip – October 2014
In October we were able to put together a field trip for the JFSP governing board to tour the Jemez Mountains area, including fires that span several decades. The field trip materials are below by stop, and a virtual field trip with photos of the various areas we visited is available here.