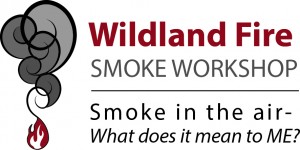 We are hosting a smoke workshop to bring together all stakeholders, including, but not limited to: federal and state regulatory and fire management agencies, tribal personnel and members, non-governmental organizations and community groups, members of the general public who would like to learn more. This will be an interactive, inclusive workshop scheduled for November 6-8, 2014 in Albuquerque, New Mexico.
The workshop will be held at the Sheraton Albuquerque Uptown at 2600 Louisiana Blvd NE. To make hotel reservations, call 1-800-325-35351-800-325-3535 and ask for the "Southwest Fire" rate. Or use this link to make your hotel reservation online. **The Sheraton is sold out Wednesday night November 5th, but does still have space Thursday and Friday nights.

Watch the recent webinar: "Smoke Forecasting Tools: A Case Study in Air Quality"
Current registration costs:
Professionals, $65 for all 3 days OR $25/day
Community members/private citizens, $15 for all 3 days OR $5/day
On-site registration table will be open:
Wednesday November 5th from 6-8pm
Thursday November 6th from 7-8am and 6-7pm
Friday November 7th from 7-8am and 6-7pm
Saturday November 8th from 7-8am
If you have questions regarding this workshop, please contact the SWFSC Coordinator, Barb Satink Wolfson at: swfireconsortium@gmail.com.